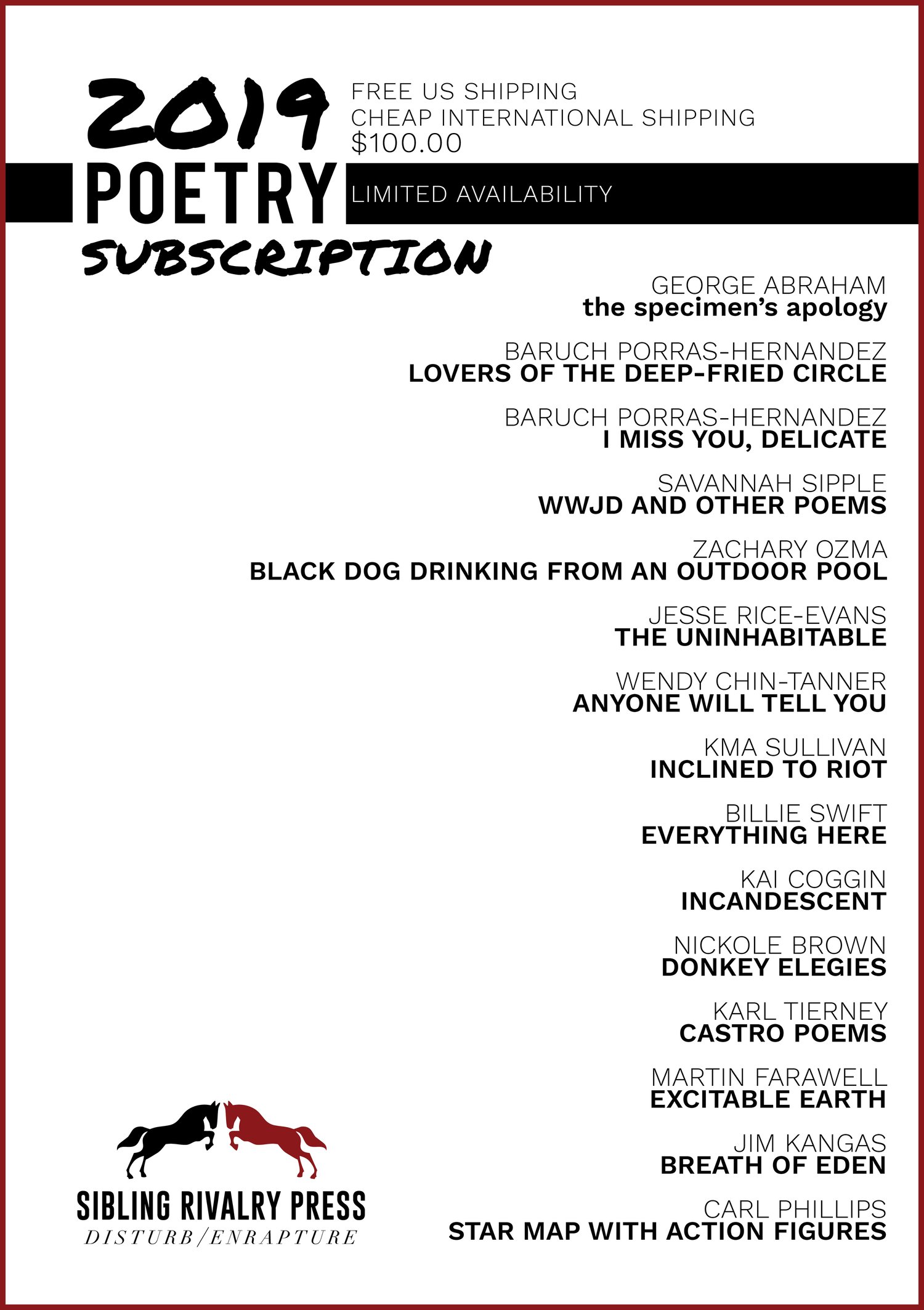 2019 Poetry Subscription (LIMITED NUMBER)
Limited number available: Get every poetry title we publish in 2019 with FREE US shipping and cheap international shipping ($25.00 one-time charge). Throughout the year, you'll receive all the titles listed below.
GEORGE ABRAHAM
the specimen's apology
BARUCH PORRAS-HERNANDEZ
LOVERS OF THE DEEP-FRIED CIRCLE
BARUCH PORRAS-HERNANDEZ
I MISS YOU, DELICATE
SAVANNAH SIPPLE
WWJD AND OTHER POEMS
ZACHARY OZMA
BLACK DOG DRINKING FROM AN OUTDOOR POOL
JESSE RICE-EVANS
THE UNINHABITABLE
WENDY CHIN-TANNER
ANYONE WILL TELL YOU
KMA SULLIVAN
INCLINED TO RIOT
BILLIE SWIFT
EVERYTHING HERE
KAI COGGIN
INCANDESCENT
NICKOLE BROWN
DONKEY ELEGIES
KARL TIERNEY
CASTRO POEMS
MARTIN FARAWELL
EXCITABLE EARTH
JIM KANGAS
BREATH OF EDEN
CARL PHILLIPS
STAR MAP WITH ACTION FIGURES
-----
Represented in our 2019 subscription is the heart of contemporary poetry: some of our best teachers, a publisher from one of the most successful small presses in the country, the director of the largest poetry festival in North America, the owner of one of our most treasured bookstores, and emerging and established poets sure to make your 2019 shine.