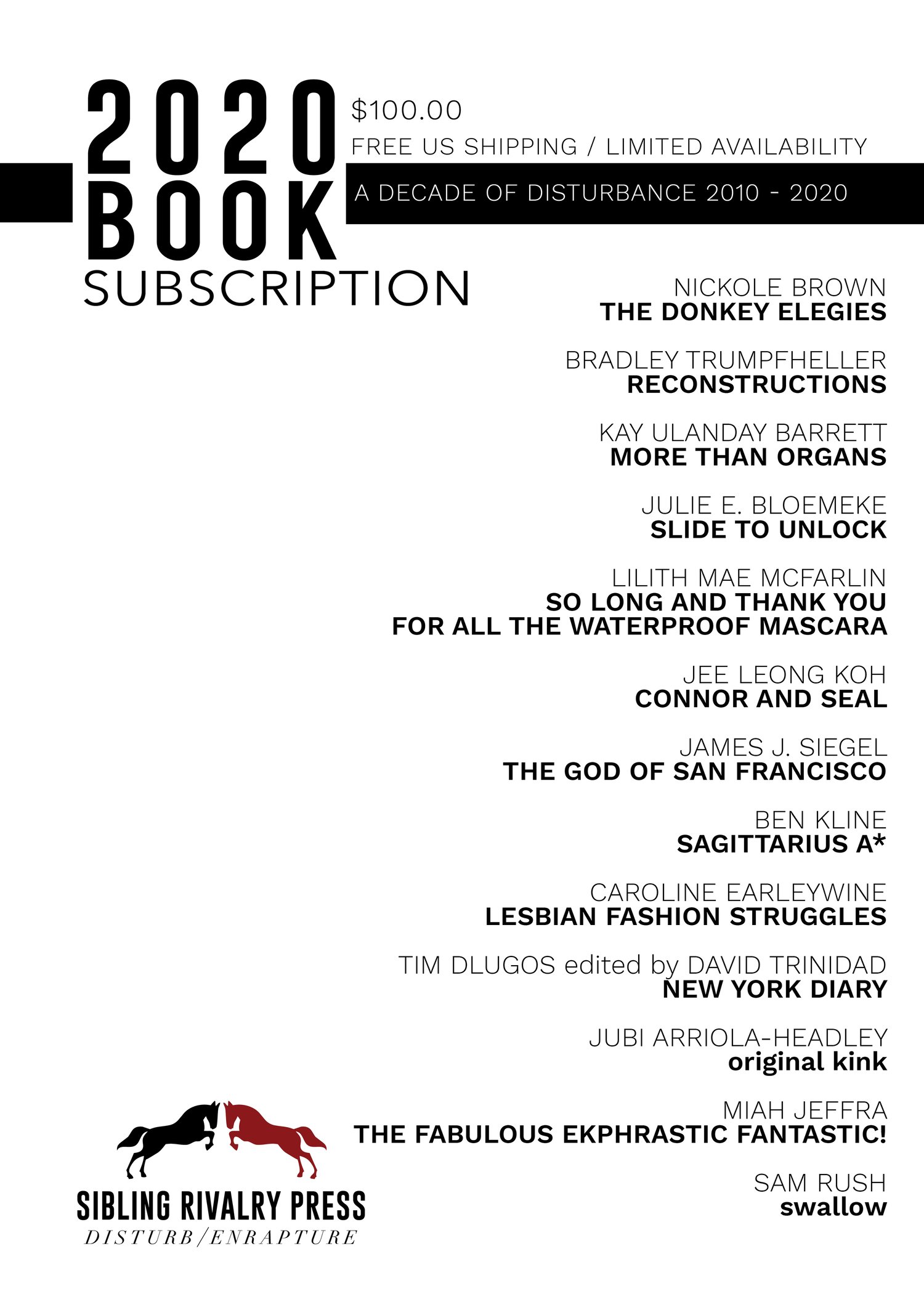 2020 Book Subscription (LIMITED NUMBER)
Limited number available: Get every title we publish in 2020 with FREE US shipping and cheap international shipping ($35.00 one-time charge). Throughout the year, you'll receive all the titles listed below.
NICKOLE BROWN
THE DONKEY ELEGIES
BRADLEY TRUMPFHELLER
RECONSTRUCTIONS
KAY ULANDAY BARRETT
MORE THAN ORGANS
JULIE E. BLOEMEKE
SLIDE TO UNLOCK
LILITH MAE MCFARLIN
SO LONG AND THANK YOU
FOR ALL THE WATERPROOF MASCARA
JEE LEONG KOH
CONNOR AND SEAL
JAMES J. SIEGEL
THE GOD OF SAN FRANCISCO
BEN KLINE
SAGITTARIUS A*
CAROLINE EARLEYWINE
LESBIAN FASHION STRUGGLES
TIM DLUGOS edited by DAVID TRINIDAD
NEW YORK DIARY
JUBI ARRIOLA-HEADLEY
original kink
MIAH JEFFRA
THE FABULOUS EKPHRASTIC FANTASTIC!
SAM RUSH
swallow
-----
Celebrate our tenth-anniversary year with our entire 2020 list of titles! Included are multiple chapbooks and full-length collections of poetry, a book of essays, and an intimate diary from the late Tim Dlugos, plus any surprises we publish along the way. Disturb and enrapture with Sibling Rivalry Press in 2020!