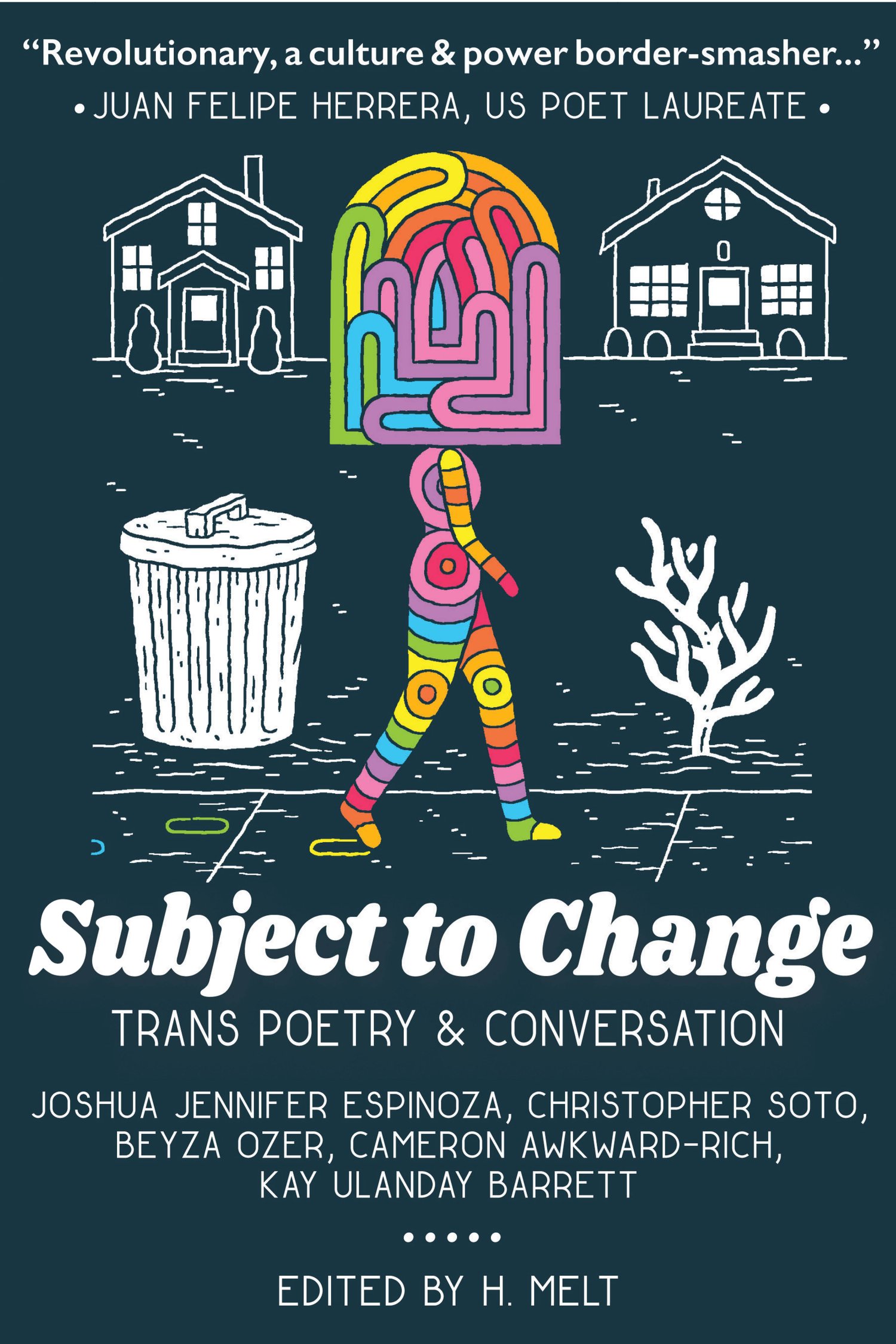 Subject to Change: Trans Poetry & Conversation
Subject to Change: Trans Poetry & Conversation
Edited by H. Melt
Featuring: Joshua Jennifer Espinoza, Christopher Soto,
beyza ozer, Cameron Awkward-Rich, Kay Ulanday Barrett
ISBN: 978-1-943977-43-7
Publication Date: 11/16/2017
Pages: 110
6x9 Perfect-Bound
Subject to Change is an anthology celebrating the work of five poets who are unapologetically trans: Joshua Jennifer Espinoza, Christopher Soto, beyza ozer, Cameron Awkward-Rich, and Kay Ulanday Barrett. Featuring poetry and interviews, this collection is a testament to the power of trans poets speaking to one another—about family, race, class, disability, religion, and the body. This anthology includes a range of trans experiences and poetics, expanding the possibilities of what it means to be both trans and a writer in the twenty-first century.
Subject to Change is revolutionary, a culture and power border-smasher & a piercing examination of brilliant, painful, and transcendent Trans consciousness and experience. It is personal document, a set of trans community-journey notations and an at-the-edge howl of love for love. Each poet goes beyond poetry, that is, beyond being the gendered & genre-ed. Each writer calls out a manifesto against death, against "being pulled apart," against frozen progressive social movements and the "homelessness" of being. What does Freedom, Bravery, Self-realization look like? Enter these five poets—their questions, their investigations, their bodies on paper, their humanity. A superb diamond, in motion. I love this book. You will too.
— Juan Felipe Herrera, Poet Laureate of the United States, 2016-17
H. Melt [editor] is a poet and artist whose work proudly documents Chicago's queer and trans communities. They are the author of The Plural, The Blurring (Red Beard Press, 2015) and the chapbook SIRvival in the Second City (New School Poetics, 2013). H. Melt co-leads Queeriosity at Young Chicago Authors and works at Women & Children First, Chicago's feminist bookstore. The Lambda Literary Foundation awarded them the Judith A. Markowitz Award for Emerging LGBTQ Writers in 2017.