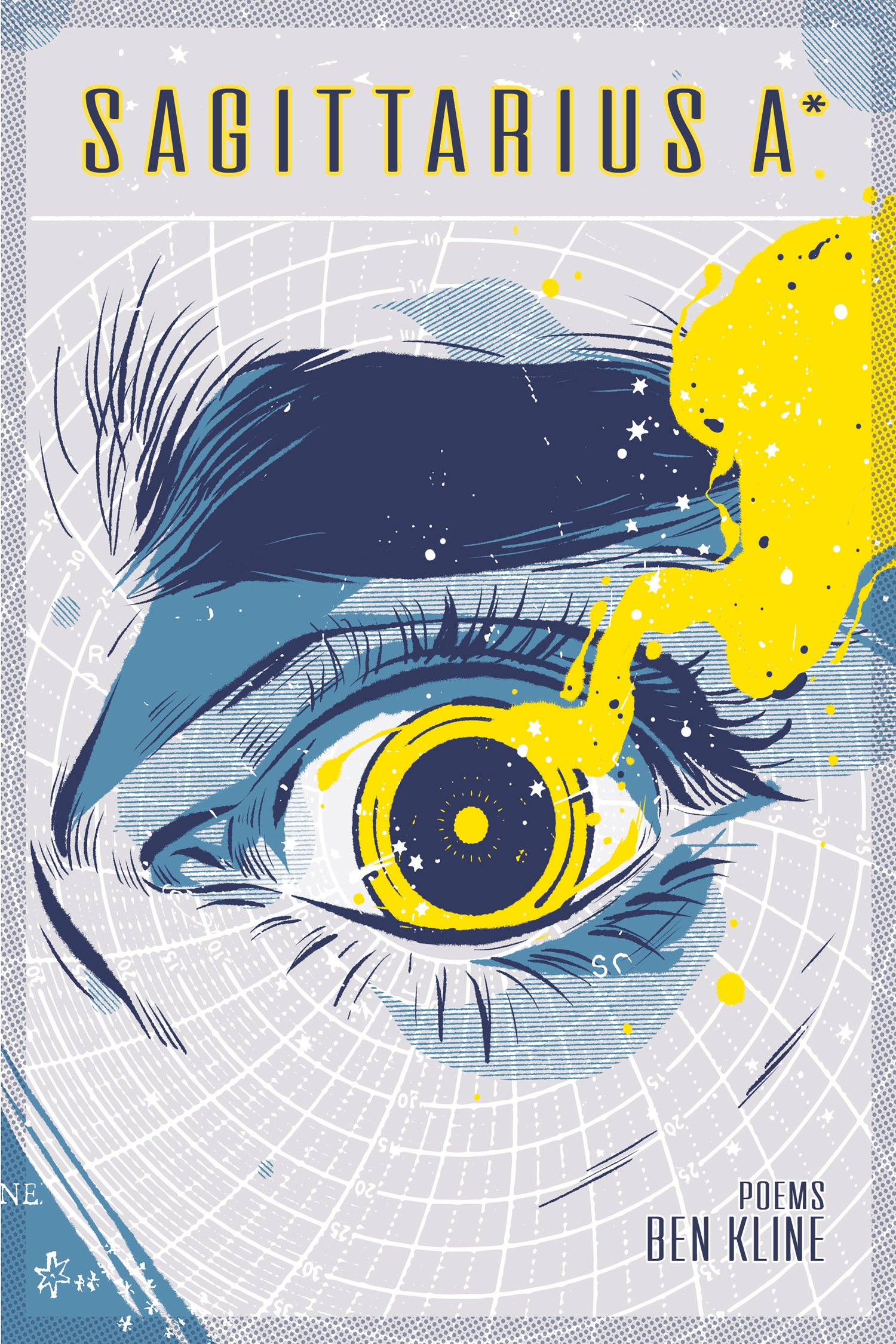 Sagittarius A* by Ben Kline
Author: Ben Kline
Title: Sagittarius A*
ISBN: 978-1-943977-78-9
Publication Date: 10/6/2020
Retail Price: $12.00
6 x 9" Paperback; 42 Pages
Distributed by Ingram and Sibling Rivalry Press
Author is available for appearances and interviews
Publisher Contact: [email protected]
Trade, library, and educational discounts available
Desk copies available for educators
Download the Press Sheet
---

SYNOPSIS
Taking its name from an astronomical radio source (and likely supermassive black hole) at the center of our Milky Way galaxy, Ben Kline's
Sagittarius A*
contains poems that interpolate wonder and living with interstellar phenomena and theories in astrophysics. Pondering the body, the self, spaceships and wormholes, Kline's work reminds us that the stars can show us a path to understanding ourselves. Like beams of light illuminating darkness, where we know something moves, these poems ask:
What is that?
PRAISE FOR Sagittarius A*
"Ben Kline's Sagittarius A* looks up at the stars and avoids asking of the world "why." Instead, it finds a way to uncover the questions we should've been asking all along. Excavating poignant, familial moments to re-observe them, Kline's sharp lyricism gestures back towards the past with hopes of illuminating our collective future. With everything from memories to science thrown in together, this sampling of the universe will leave you all the 'more receptive to falling in love.'"

—J. David, author of Hibernation Highway

---
"Sagittarius A* works as a satellite bouncing us through time and space and filtering personal experiences through scientific and technological language and form. This collection makes us question memory and truth, asking the all-too-human question 'Why did I circle back into this moment?'"
—Stephen S. Mills, author of Not Everything Thrown Starts a Revolution

---
"Ben Kline's Sagittarius A* begins with the Big Bang of wonderment—of staring into the black jigsaw puzzle of our galaxy only to find ourselves steeped in our most personal questions—and then launches into a trajectory that in its scope contains the creek mud of creation, black holes' dizzying swirls, love, blood, faith, and the self. Here are poems that range from the intimacy of touch to spaceships being pulled apart like balls of cotton, from God's Instagram to gravity's voracious pull. Kline, too, writes with a range I haven't seen in any other collection, with poems that deftly navigate between being topical, cerebral, sexy, sensuous, and clever, all while inventing forms and language-play that are breathtaking and delightful to behold. Sagittarius A* is an accomplishment, one of those rare chapbooks that feels like a whole collection, a book of beauty and science, a light that plunges into the darkest of depths."
—Todd Dillard, author of Ways We Vanish

---
BIO
Ben Kline lives in Cincinnati, Ohio, writing about our modern digital existence, former lovers, the Eighties, assorted concepts in astrophysics, and growing up Appalachian. He is the author of
Going Fast in Loose Directions
(Queer Young Cowboys, 2014) and is recipient of the Christopher Hewitt Award for Poetry from
A&U Magazine
. His work has appeared in numerous publications including
The Cortland Review
,
DIAGRAM
,
Glass: A Journal of Poetry
, and
Hobart
. For more information, visit his
website
.