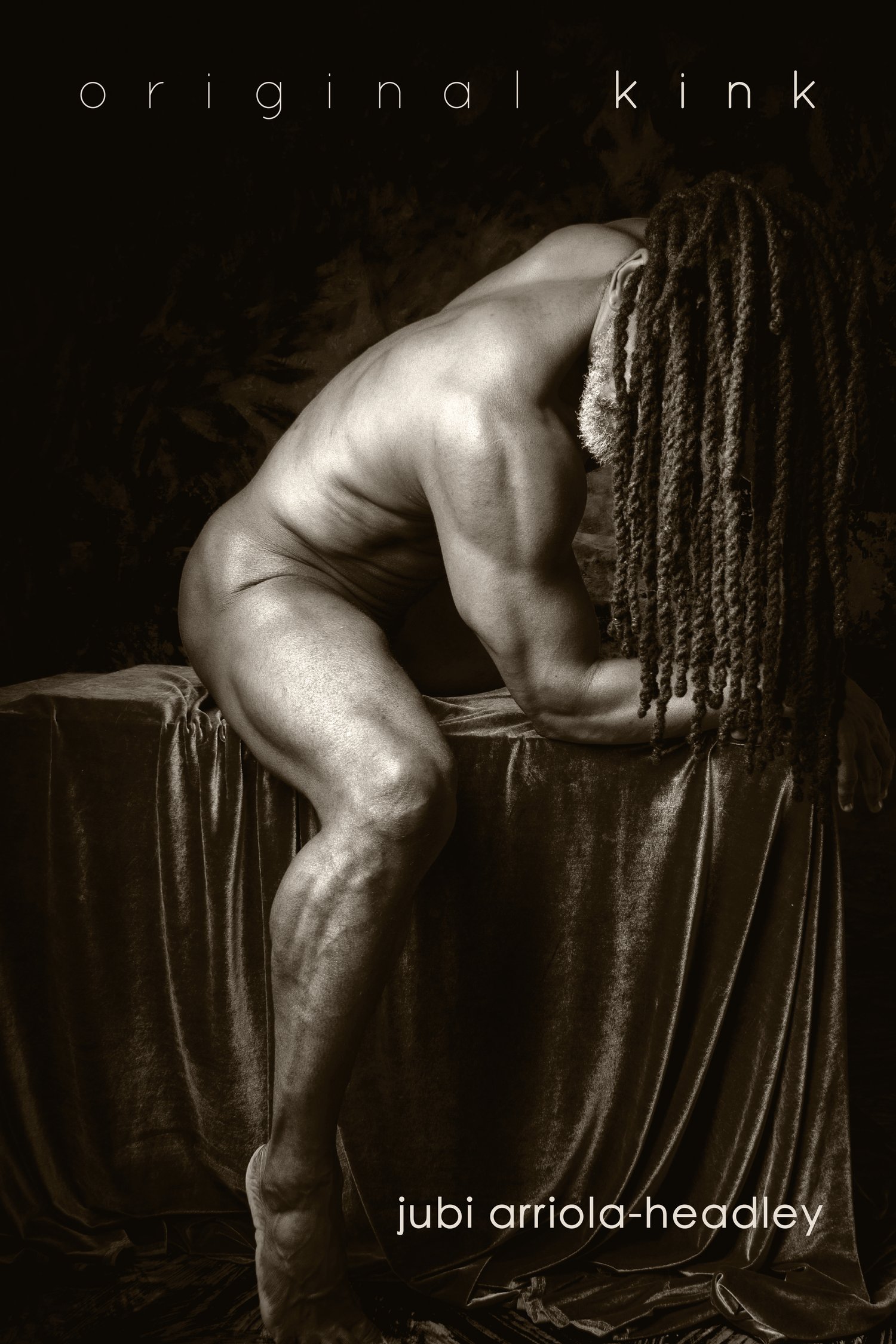 original kink by Jubi Arriola-Headley
Author: Jubi Arriola-Headley
Title: original kink
ISBN: 978-1-943977-80-2
Publication Date: 10/12/20
Retail Price: $18.00
6 x 9" Paperback; 94 Pages
Distributed by Ingram and Sibling Rivalry Press
Author is available for appearances and interviews
Publisher Contact: [email protected]
Trade, library, and educational discounts available
Desk copies available for educators
Download the Press Sheet
www.justjubi.com
Longlisted for the 2020 Julie Suk Award in Poetry
SYNOPSIS
In
original kink
, Jubi Arriola-Headley explores kink as mythscape of promised pleasure, lush and lustral, kink as Godzilla's desire for softness and the boy gone "starburst," kink as "the sun-soaked / surface of impossible kick," as "something loose enough / to dance in." At once soliloquy, praise song, and injunction,
original kink
divines the brutal offices and beauteous comforts of syntax, street corners, and superheroes as sites for Black and queer (un)becomings. Accompanied by Eve, Isaac Newton, and a dizzying cast of daddies, Arriola-Headley writes into pleasure's beyond, crafting poems that "glutton at spring's source, / ever lovedrunk on / the insistent gush" of the world and create a dazzling, multiple "we."
PRAISE
"In
original kink
, Jubi Arriola-Headley speaks with a voice that the old folks back home would say sounds like he has an attitude problem: 'Fix/your face to smile like your teeth/wasn't butter yellow.' These poems strut about and roll their necks. There are boasts and insult. But even when this book is sorrowful, it is proud: 'I still want Daddy/to look at me like he does those dogs. Like I could win.'"
—Jericho Brown, Pulitzer Prize-winning author of The Tradition
"This bold debut collection interrogates masculinity, family dynamics and state executions of black bodies with unflinching tenderness and a relentless compulsion to expose tyrannies both self-inflicted and externally imposed. original kink harnesses bruising, vulnerable language with biblical cadence, narrative precision and a musical dexterity to create a poetic of witness, of hymns, striving to demonstrate that 'This is how tyrannies are/ built. Like lullabies.'"
—Malika Booker, Cholmondeley Award-winning author of Pepper Seed
"original kink is fixed to trick you with what seems an easy-going syntax. Careful. There's warmth, sure. Love, yes lord. And even joy. But Jubi Arriola-Headley's debut doesn't go easy on religion, desire, power and the intersections where these collide with race, queerness, and gender. Throughout, the poet's kinkiness is a crafty entanglement of hair texture, knots that upset schemes, and sexuality some demand be cut. Careful. Check: 'I'm a freak, America, a peeping/Tyrone...outside looking in.' Then the poem sets its feet to throw hands. Arriola-Headley has been watching, America. He has some words for us. Perhaps we should step outside?"
—Douglas Kearney, Theodore Roethke Memorial Poetry Award-winning author of Buck Studies
BIO

Jubi Arriola-Headley (he/him) is a black queer poet, storyteller, & first-generation United Statesian whose work explores themes of manhood, vulnerability, rage, tenderness & joy. He's a 2018 PEN America Emerging Voices Fellow & holds an MFA in poetry from the University of Miami. His work has been published or is forthcoming in Ambit, Beloit Poetry Journal, Nimrod, People's World, & Southern Humanities Review. Jubi & his husband split their time between South Florida & Guatemala, where he hopes to pick up enough Spanish to learn what his in-laws are saying about him.