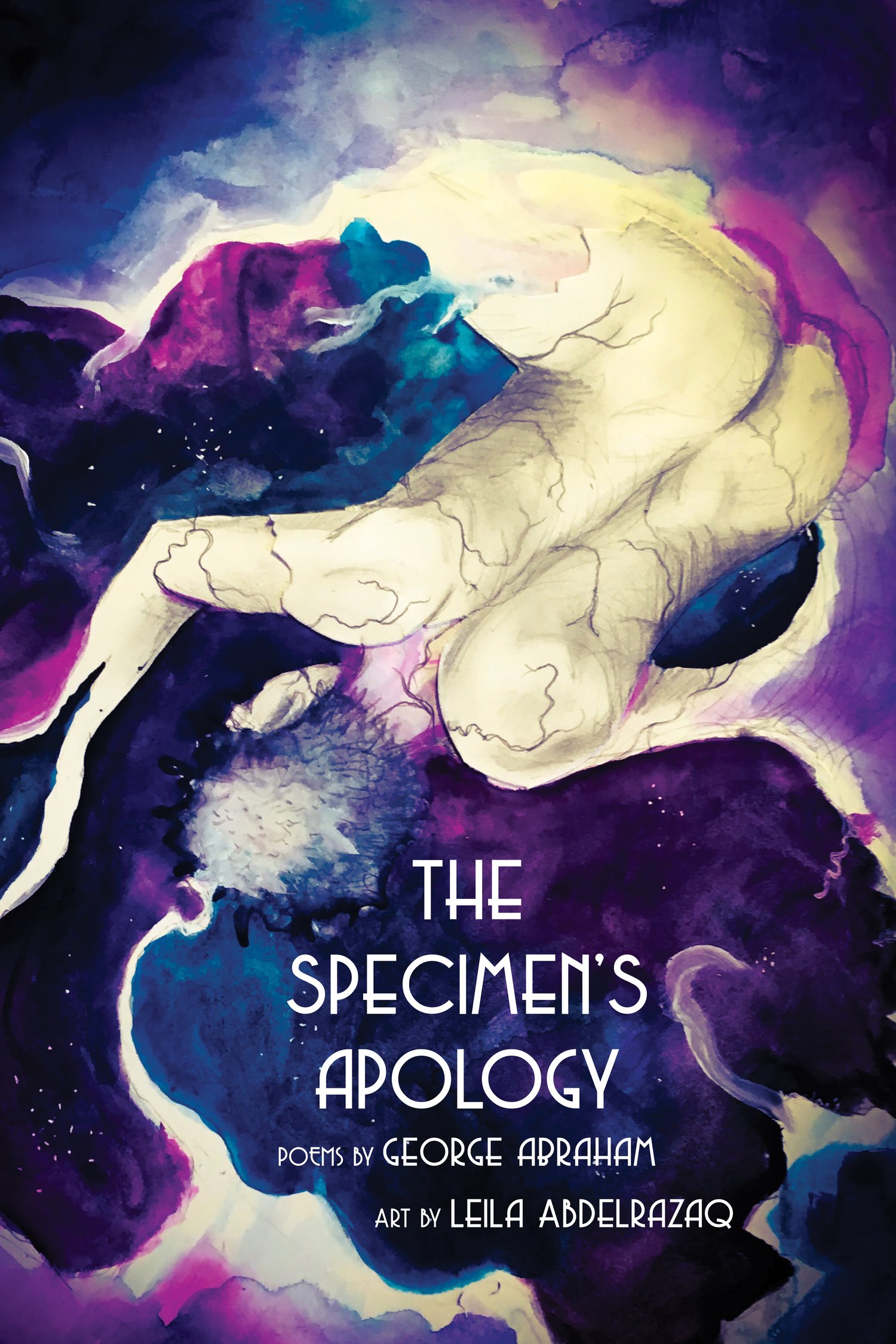 the specimen's apology by George Abraham
This is a PRE-ORDER title. Title will ship at least one week before release date.
Title: the specimen's apology: an illustrated chapbook
Poems by George Abraham
Interior Art by Leila Abdelrazaq
Cover Art by Jasmine Bell
ISBN: 978-1-943977-92-5
Publication Date: 1/11/2019
Retail Price: $17.00
SALE Price for PRE-ORDER: $15.00
6" x 9" Paperback
Distributed by Ingram and Sibling Rivalry Press
Author is available for appearances and interviews
Publisher Contact: info@siblingrivalrypress.com
_____
"Searing away binaries, demolishing the calcified partitions between halves—this is George Abraham's the specimen's apology. Boy/man, man/woman, history/present, conflict/occupation, English/Arabic, poetry/visual art—the gulf between each is breached, shrunk, erased, widened, warped. 'I am always translating,' Abraham tells us in one poem—and it is the wild desperate yearning of the translator, working in vain to achieve perfect fidelity to a source, that powers these poems: 'if desire is, / as my language translates, a moon, / let this body be the satellite.'" - Kaveh Akbar

"From the first, devastating poem ('i touch myself & do not leak gold'), George Abraham's poems bristle with alchemy, a narrative of love, history, family, and Palestine that pulses with longing. 'You cannot know the way you split galaxies/with a single breath,' he says, a prophecy that unfolds throughout the collection, where the speaker reclaims himself, his grief and—yes—his land, over and over. Juxtaposed with Leila Abdelrazaq's startlingly evocative artwork, the specimen's apology is a fearless, riveting excavation of self and other." - Hala Alyan
"In the specimen's apology George Abraham writes with a sharp elegance about lineage, about inheritance, about what gets passed down, and what doesn't. What's erased. What's obscured. What's locked away. I get the sense of Rubik's Cube-ing, searching for the right sequence of words or images or structures to make sense of absence, and in doing so, he makes a beautiful, furious, and crackling new kind of sense. His writing smacks my feelings right across the face." - Tommy Pico
_____
George Abraham is a diasporic Palestinian writer and Bioengineering PhD candidate at Harvard University. He is a Kundiman fellow and winner of the 2018 Cosmonauts Avenue Poetry prize. Their first full-length poetry collection, Birthright, is forthcoming with Button Poetry in 2020.
Leila Abdelrazaq is a Detroit-based Palestinian author and artist. Her debut graphic novel, Baddawi, was shortlisted for the 2015 Palestine Book Award. She is also the author and illustrator of The Opening, as well as a number of zines and short comics. She is the founder of Bigmouth Press & Comix.
This is a PRE-ORDER title. Title will ship at least one week before release date.