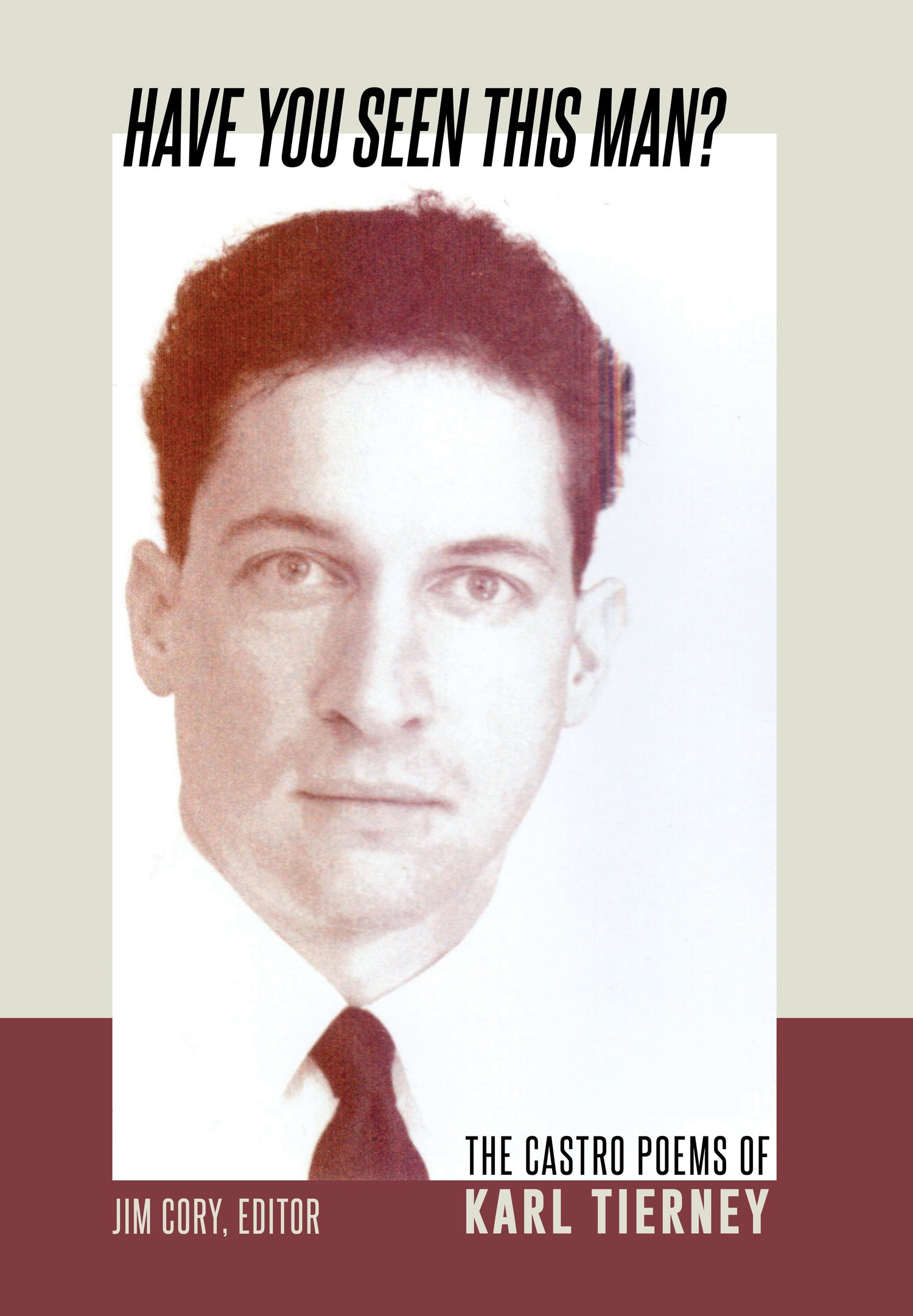 Have You Seen This Man? The Castro Poems of Karl Tierney
Title: Have You Seen This Man? The Castro Poems of Karl Tierney
Editor: Jim Cory
Cover Photograph: (c) Rink Foto 1990
ISBN: 978-1-943977-68-0
Library of Congress Number: 2019938609
Publication Date: 10/10/2019
Retail Price: $18.00
5.83 x 8.27" Paperback; 126 Pages
Distributed by Ingram and Sibling Rivalry Press
Editor is available for appearances and interviews
Publisher Contact: [email protected]
Trade, library, and educational discounts available
Desk copies available for educators
Download the Press Sheet
---
The Arkansas Queer Poet Series recognizes LGBTQ-identified poets with an Arkansas connection. Have You Seen This Man? is the second book in this series.
---
KARL TIERNEY was born in Westfield, Massachusetts, in 1956 and grew up in Connecticut and Louisiana. He received a Bachelor's Degree in English from Emory University in 1980 and an MFA in Creative Writing from the University of Arkansas in 1983. That same year, he moved to San Francisco where he dedicated himself to poetry. He was twice a finalist for the Walt Whitman Award, a finalist for the National Poetry Series, and a 1992 fellow at Yaddo. Though unpublished in book form during his lifetime, his poems appeared in many of the best literary magazines of the period, including Berkeley Poetry Review, American Poetry Review, and Exquisite Corpse. He published more than 50 poems in magazines and anthologies before his death. In December of 1994 he became sick with AIDS and took his own life in October of 1995. He was 39 years old.
---
"I met Karl Tierney in the '80s, when we were both in Bob Gluck's legendary gay men's workshop held in the back room of Small Press Traffic in San Francisco's Noe Valley. That workshop, like most back rooms, made for instant intimacy. Have You Seen This Man?, skillfully edited and introduced by Jim Cory, shows us the full range of Karl's talents. Despite its mordant provenance this is a fun book, radiant with emotive power." - KEVIN KILLIAN
"Reading Karl Tierney's collection is like entering a portal into San Francisco in the '80s and '90s, a time when it was still dirty and sexy and alive, even as men across the city were dying. With sharp intimacy, Tierney's poems had me laughing and crying in recognition for all that we lost. And I'm deeply grateful to the editor and publisher for rescuing his work from the dustbins of history. This is vital reading." - ALYSIA ABBOTT
---
ABOUT THE EDITOR: Jim Cory's most recent publications are Wipers Float In The Neck Of The Reservoir (The Moron Channel, 2018) and 25 Short Poems (Moonstone Press, 2016). He has edited poetry selections by contemporary American poets including James Broughton (Packing Up for Paradise, Black Sparrow Press, 1998) and Jonathan Williams (Jubilant Thicket, Copper Canyon Press, 2005). Poems have appeared recently in Apiary, unarmed journal, Bedfellows, Cape Cod Poetry Journal, Capsule, Fell Swoop, Painted Bride Quarterly, Skidrow Penthouse, Trinity Review, Have Your Chill (Australia), and Whirlwind. Recent essays have appeared in Gay & Lesbian Review Worldwide, New Haven Review, and Chelsea Station. He has been the recipient of fellowships from the Pennsylvania Arts Council, Yaddo, and The MacDowell Colony. He lives in Philadelphia.