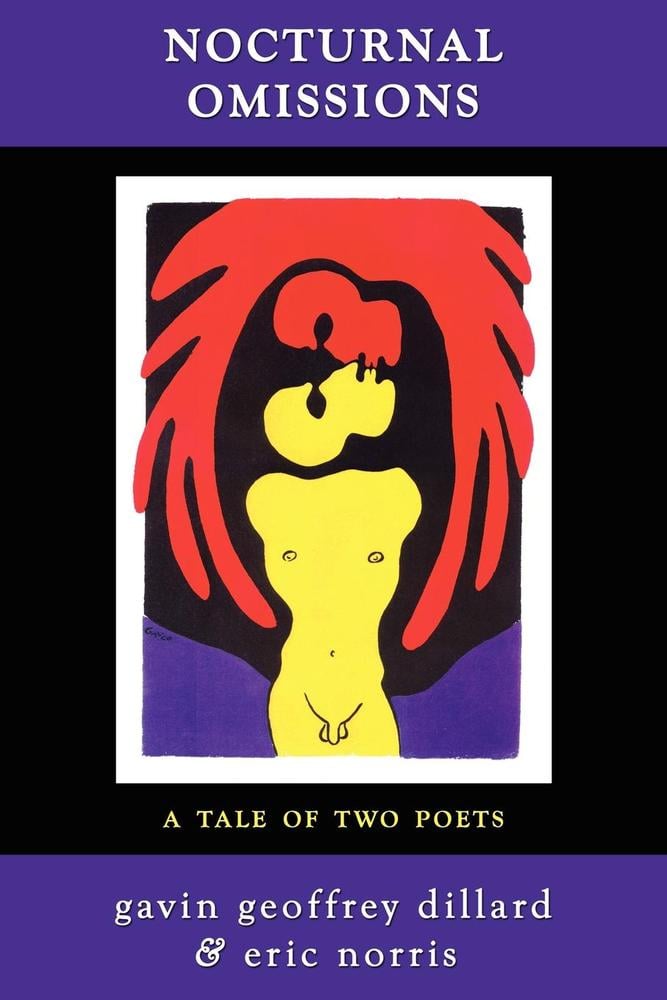 Nocturnal Omissions by Gavin Geoffrey Dillard and Eric Norris
Release Date: September 27, 2011
ISBN: 978-1-937420-00-0
168 Pages/111 Poems
Nocturnal Omissions: A Tale of Two Poets - birthed through correspondence between authors Gavin Geoffrey Dillard and Eric Norris – is an unabashedly erotic, romantic, poetic, sometimes even philosophical dialogue on love, sex, and art's glorious afterlife. You will never pick up a pen, a lover, or a book of poetry quite in the same way again.
REVIEW BY RICHARD LABONTE:
Gavin lived in Hawaii. Eric lived in New York. Facebook brought them together – Gavin, a former porn star, life-long poet, one-time chef and sometime hermit in his 50s, responded to an admiring post from Eric, a poet 15 years his junior. This two-author collection of 111 poems – almost one a day from one to the other over two months – is the result. Playful and passionate, lusty and seductive, erotic and philosophical, their poem-fueled cyber-romance was to culminate in a joint "nude poet" reading in San Francisco – the first time the two men would meet in person. "I will be holding you in a few hours," writes Eric in his last poem, emailed as his plane is landing in Oakland; and "I want...to breathe for a night – for four nights – the same bepassioned air," writes Gavin in the besotted collection's final poem. Did reality match expectation? This book ends at the brink of both the storytelling and sexual climax. Which is as it should be. The best romances are open-ended.