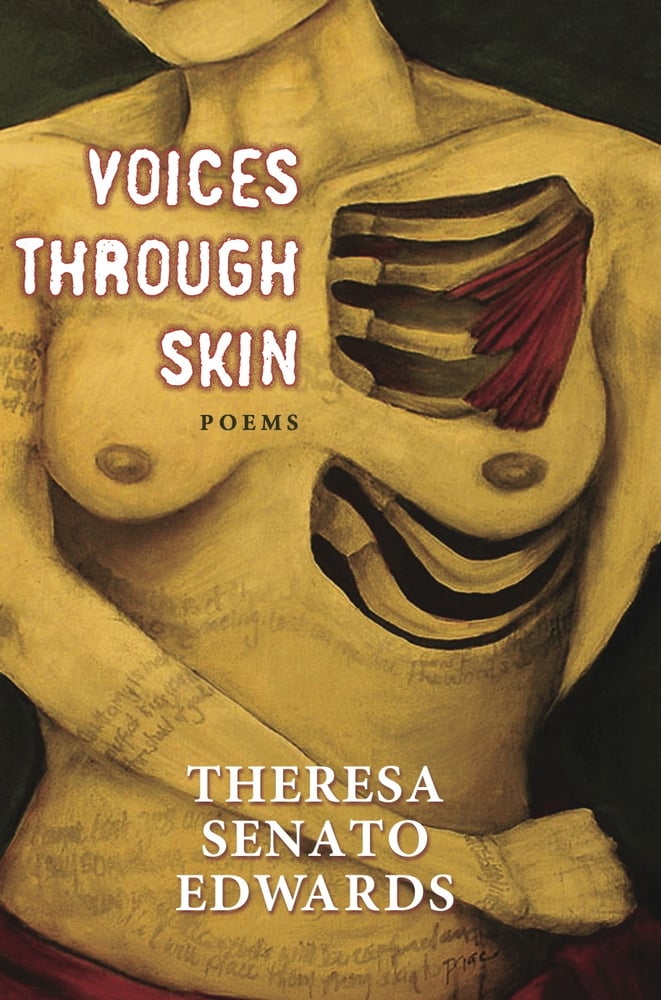 Voices Through Skin by Theresa Senato Edwards
ISBN: 978-0-9832931-0-1
Publication Date: 6/1/2011
B&W 6 x 9 in Perfect Bound on Creme w/Gloss Lam
Page Count: 90
In her debut collection of poems, Theresa Senato Edwards gives voice to womanhood, from daughter and mother to warrior and lover. Through whispers and screams, her words shatter the glass of the page; and when the conversation is over, a song of strength reverberates.
"There's a new TSE joining the ranks of English language poets. With VOICES THROUGH SKIN, Theresa Senato Edwards establishes herself as a no-holds-barred chronicler of the gut-wrenching feelings of love, loneliness, loss, guilt, and sometimes, in the end, redemption. Only the most gifted poets can bring such searing insight into the darkest hidden corners of the human condition." - Marist College's Gloria Brownstein
"Theresa Senato Edwards is not afraid to place before the readers' eyes topics of incipient delicacy as breast cancer, passionless physical responsibility sessions, death, lupus, physical abuse, those idiosyncratic ways we all face the big events in life and after. Even her style of writing invites the eye to jerk across the page and gather the momentum of her messages as though a willing captive. Secrets whispered, memories distorted by time and incidents – she touches these with a sense of veracity that makes us stop and relate. [These poems] reflect and refract light and pain and living that are contained in this volume – a book whose cover (the art of Christine Blu Ashton) boldly suggests the works inside. Once again the notable Sibling Rivalry Press has discovered and shared significant new poetry." - Amazon Reviewer Grady Harp
"Edwards uses faceted language, a fine ear for distance, and varied poetic structure to nurture beauty from scabs and scars. She digs up a blooming, vining garden of pain, unafraid of getting her hands dirty, taking her readers through layered images of hurt (both historic and personal), and guiding our fingers over the worried notch on her childhood door, drawing us into a 'smooth wooden pool of calm.' Hers is a work of terrible beauty." - Annmarie Lockhart, Editor of vox poetica
Featuring cover art by the incredible Christine Blu Ashton.